Another alpha, hopefully the last one before I do a final 3.0 release. As with beta 5, you need to manually download and update if you're running beta 4 or earlier. Using Sparkle to update from beta 5 should work smoothly.
The big new feature is a completely redesigned log viewer. The interface has been modernized and two new modes to browse logs have been added. In addition to just viewing the raw transcript, the log viewer will pull out the images and links that were in the conversation, making it easier to find a particular image or link you're looking for.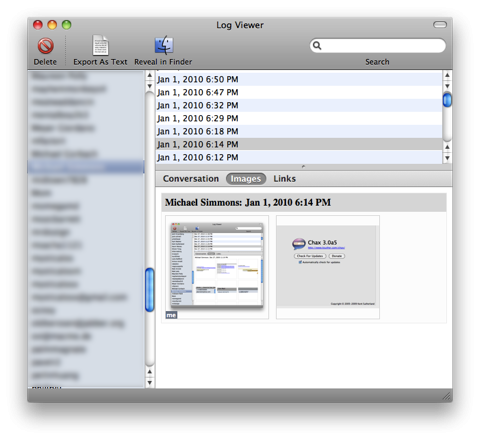 Also back after a couple year hiatus is auto-reconnect. It works for me in simulated tests, but I'd like to hear how it works for people who have continual connection problems.
If you're still having any problems, please keep reporting them and I'll see what I can do. One issue that I am aware of that still hasn't been resolved is the activity log and Growl notifications for status changes not appearing.
Changes from Chax 3.0 Alpha 5:
(New) Redesigned log viewer with an updated interface and the ability to browse images and links
(New) Option to attempt to automatically reconnect when the connection is lost
(New) Added "Show in Log Viewer" to the contact list contextual menu
(Bug) Fixed reordering statuses in the Edit Status Menu sheet
(Bug) Fixed crash when receiving an invitation to a group chat