This has been a while in coming, but it should finally be usable enough for public testing: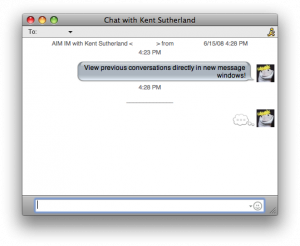 Enable message history by enabling the option "Show previous message history in new message windows" in Chax's general preferences. You may notice that message history will not immediately appear after enabling this option. Message history will only be displayed after you begin to chat with other people after you enable this option, so chat with some people for a bit before determining that it isn't working.
There are also a couple of new options that aren't currently exposed in the preferences. At some point in the future I'll add a page describing all of the hidden defaults that Chax currently includes. SaveWindowFrames is an option ported from Chax 1.5 that saves the window position for each contact that you talk to. ShowSenderAccount shows what account you're using to talk to someone with for those of you who use multiple accounts on the same service and want to know which account you're sending a message from.
The syntax for enabling hidden options in the Terminal is as follows:
defaults write com.ksuther.chax SaveWindowFrames -bool YES
Changes from Chax 2.1.2:
(New) Message history shows messages from the previous conversation in new chat windows
(New) Added multitouch swipe gesture to switch tabs in message window
(New) Hidden default SaveWindowFrames saves per-contact window positions
(New) Hidden default ShowSenderAccount shows the active account in each conversation
(Bug) Fixed parsing logs with some languages
(Bug) New chat windows no longer steal focus when using auto-accept